How to Clean Your Basement to Avoid Mold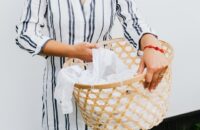 Image Description: laundry basket
Mold tends to grow in dark places with high humidity and moisture. These conditions make the basement the ideal breeding ground for mold. Moisture that penetrates the home's foundation seeps into the basement, making such areas susceptible to mold.
There are many types of mold, and the kind that grows in basements can also be toxic. This renders the basement very unhealthy. Moreover, when mold eats away at organic material, it can shake the foundation of the house. To add to that, the presence of mold indicates water damage, which is a huge problem in itself.
How To Prevent Mold In Your Basement?
In this guide, you can find out how to clean your basement to avoid mold. Mold can cause significant damage, so prevention is always better than cure!
Use a Dehumidifier
Humidity is a major reason why mold begins to form. If you want to avoid mold growth in the first place, you should strive to keep humidity levels low. Basements have higher humidity as compared to the rest of the house. You can counteract this by installing a dehumidifier in the basement.
Dehumidifiers will bring down humidity levels to an acceptable range of 30% and 50%. With lower humidity, mold won't grow as easily. Just make sure the dehumidifier has enough capacity to work in the area. To ensure this, consider the square footage of the basement.
Insulate Water Pipes
Mold forms as a result of water damage. When water lingers in an area for too long, mold spores begin to form. It takes mold just 24-48 hours to form! Mold then quickly spreads to other parts of the house. If you want to prevent mold, you need to avoid water damage.
Water damage is common in basements, especially during the winter season. During colder temperatures, the water inside pipes tends to freeze. As a result, the pipes can burst and cause water to flood the basement. You should insulate the water pipes in the basement to avoid water and mold damage.
Avoid Use of Organic Materials
If you plan to get wooden floors in the basement, think again! Mold feeds on organic material like wood, so use other flooring materials instead. Moreover, wooden floors are more susceptible to water damage and might warp or start bubbling. Replacing or repairing wood is costly, and wood may not be salvaged by mold damage.
Similarly, avoid using plants in the basement. People tend to decorate with plants, which can be prey for mold. Use more mold-resistant flooring in the basement, and ensure there are as minimal organic materials as possible.
Be Careful When Doing Laundry
Many people do their laundry in the basement. However, it's important to be careful when attempting laundry, or you'll increase mold growth chances in the basement. First, make sure you don't dry any wet clothes in the basement, as this will spike humidity levels. To keep humidity levels low, add a dehumidifier as mentioned above or ensure adequate ventilation by adding an exhaust fan that links to basement vents.
Lastly, if you can, move laundry items to another room altogether. This will prevent mold damage in basements, which have lower ventilation and are more susceptible to mold growth.
Wipe Floors
Whenever you spot any water leak or damage in the basement, tend to it immediately. Letting water sit for long will damage the basement walls and floors and increase mold growth chances. Mold spores start to form soon after moisture and humidity are present, which is the environment in a basement.
If you see any water spill or leak from clogged gutters, a leaking AC, or a washing machine, wipe the floor with a clean cloth immediately. Make sure no moisture remains as this will cause mold to form. The next step should be to tend to the problem that led to the water leak.
How to Get Rid Of Mold?
If you spot mold growth in the basement, you should immediately call mold removal professionals. Since mold is often caused by water damage, you might need to contact water damage restoration experts. You can detect the presence of mold through the following signs:
A musty odor
A green, brown, grey, or black growth
If you experience any allergic reactions like itchiness, watery eyes, and wheezing
If you detect mold in one part, chances are, it will be present in other areas, too, as mold spores spread very quickly. You can use a diluted bleach solution to remove mold. You should then wipe the stain with a dry cloth to ensure no moisture remains. However, it is best to contact professionals as mold can be toxic.
Mold Removal in Riverdale
Floods are common in Riverdale so you might experience water damage in this area. Water damage can lead to mold damage, ruining organic material and proving detrimental to human health.
You can contact 911 Restoration of Riverdale
for professional mold removal and remediation services. This licensed, insured, and bonded company has experts who will ensure you get a fresh start on your property.