911 Restoration of Riverdale
Weather Alert: If you are experiencing weather-related damage from the storm, call us today for emergency assistance!
911 Restoration of Riverdale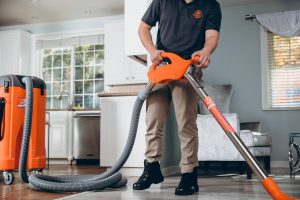 When you find yourself in any situation where your home or business becomes compromised, it's time to act fast! Of course, it is understandable that you would want the water damage repaired quickly so you can resume your regular, daily life in Riverdale.
At 911 Restoration of Riverdale, we are aware of the need for immediate assistance, which is why our office is open around the clock. When you reach out to the Riverdale water damage restoration team you can be sure that help will be at your door within 45 minutes. Call us for a free visual inspection.
When it comes to other non-urgent matters, such as mold removal and fire restoration in Riverdale, we will still provide prompt service to survey the area and put a plan of action into place for your property's restoration.
At 911 Restoration of Riverdale, we offer a Fresh Start with our comprehensive selection of property damage restoration services, including but not limited to:
Whether you're a Riverdale homeowner or business owner, 911 Restoration of Riverdale is your Fresh Start! We'll communicate with you throughout the entire process, help answer questions related to insurance, and restore your property to its pre-damaged condition. One of our IICRC-certified teams is dispatched within 45 minutes of your call! Contact us today, and one of our friendly representatives will assist you in finding the nearest Riverdale location.
Service area map
Water Damage in Riverdale
Floods, winter storms, and wear-and-tear are just a few of the ways water gets inside your Riverdale property. Water damages the structural integrity of your building and creates unsafe conditions inside your home or business. 
When you need a water removal company or any kind of property restoration in Riverdale, our expert staff at 911 Restoration is available 24/7/365. We'll have an IICRC-certified professional at your property in 45 minutes or less, so give us a call, any time.
Water Damage Restoration
When you have a water stain on your ceiling or a wet spot in your basement, don't just use a towel or bucket to soak up water. Stop the problem at the source. Our team is great at finding leaks, and we'll repair them for you. As part of water damage inspection, we'll even test your property's structural integrity. We also remove and repair any damaged materials.
Our professional crew disinfects your property after black water or a sewage backup, and our blowers will have it dry in no time. In the event of an emergency, we offer moving and storage to prevent damage to your furniture and belongings.
Whether your property needs protection from water damage or restoration afterward, we do it all. We offer same-day service for all types of 911 water restoration, as well as free visual inspection (for property owners only). To get started, give us a call today.
Joseph Muscat
"Great to work with. The Restoration Operators company is the best for this kind of job. If you have fire damage give them a call first. You will be glad you did. They are true professionals. Came at the scheduled time, did a great job, and left no mess. Very professional service. Thank you all."
Sanitization Services and Cleaning Solutions
The safety of your property and its inhabitants has never been more important. At home, you might worry that wiping down counters and floors isn't enough to protect it from germs. If you own commercial property like a retail store or office space, your business depends on cleanliness. Customers and employees want to know the public space they enter is safe.
At 911 Restoration of Riverdale, we offer deep cleaning and sanitization solutions for residential and commercial properties. As a business owner, you take the health and safety of your customers seriously, and so do we. All of our workers are IICRC-certified using only the highest standards and safety measures.
When you need a professional to clean and disinfect your Riverdale property, give us a call.
Mold Removal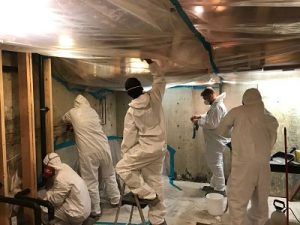 Has your building recently experienced a burst pipe under your sink or an appliance flooding your basement? Without proper water cleanup, air circulation, or enough light, mold will thrive. By the time you realize there's a problem, your home or business could be infested.
Mildew doesn't just make your building smell bad. Certain types of fungus cause chronic health issues, including coughing, sneezing, or dizziness. It also eats away wood and drywall, threatening the well-being of your property.
At 911 Restoration, our certified 911 mold restoration experts get rid of all kinds of fungus. After a thorough mold inspection, we remove and replace any affected building materials. We offer third-party testing with laboratories to put your mind at ease. After disinfection following all EPA and CDC guidelines, our fans and dehumidifiers ensure your facility stays dry and mold-free.
For safe mold removal in Riverdale that lasts, give us a call today.
Sewage Backup and Cleanup
A sewer backup in your basement, toilet overflow, or burst pipe spilling sewage onto your floors isn't just gross; it's dangerous.
Raw sewage is hazardous to your health, so cleanup should always be done by a professional. Our trained staff does sewage backup cleanup near me safely. Afterward, we disinfect and dry your property. We also do Riverdale water damage inspection to make sure dirty water didn't get under your floors to cause problems down the line.
If your toilet overflows, you probably have a larger blockage inside your pipes. At 911 Restoration, we repair your plumbing system as well. In fact, our knowledgeable crew doesn't just take care of your sewage backup cleanup; we make sure it doesn't happen again. 
To keep you and your property safe after hazardous waste enters it, give us a call at 718-285-7309.
Fire and Smoke Damage Restoration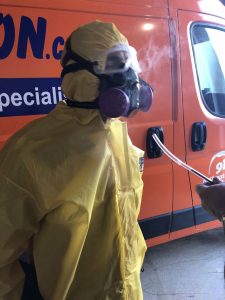 At 911 Restoration of Riverdale, we hope your property never encounters a fire, but when it does, we're here to help. 
When your furnace spews dirty, sticky soot inside your building, we offer puffback cleanup. If your home or business survived a fire, we provide full-service fire damage cleanup near me. That includes pack-out and storage of your belongings, as well as ash and soot removal from furniture and surfaces. 
If parts of your facility are drenched by a fire hose or sprinkler system after a fire, we'll do water damage restoration as well. If your property sustained significant damage, we offer rebuilding solutions.  
Not to mention, smoke damage lingers inside buildings even after the flames are extinguished. For a complete smoke and odor removal in Riverdale, call us today at 718-285-7309.
Disaster Restoration
No matter where you live, your building faces potential damage from weather-related disasters. Fires, floods, earthquakes, hurricanes, and tornadoes are a nightmare for any property owner. In the event of an emergency, your priority is always safe for you and your loved ones. You might not have enough time or warning to prepare your home or business for the worst.
911 Restoration of Riverdale is here for you, before or after a disaster. If you're worried about a hurricane flooding your business, we'll board it up, as well as store your items to keep them safe. When a tornado rips through your home, we rebuild it. If a wildfire affects your home, we provide fire cleanup and soot removal. No matter what the emergency, you can count on our disaster restoration team. Call us at 718-285-7309, and we'll be at your property within 45 minutes or less. 
Commercial Restoration
As local business owners, we understand how important your commercial property is. It's more than just a business. It's your livelihood. No matter what kind of building you own, repairs can be daunting. You need a commercial flood cleanup team you can trust.
Managing a business is challenging enough. Likewise, you shouldn't have to worry about insurance paperwork as well. Thankfully, our friendly staff at 911 Restoration is committed to putting customers first. We offer free insurance consultations, and we'll even handle the paperwork for you.
At 911 Restoration, we have over 30 years of experience. All our branches are locally owned and operated, so our Riverdale team services property owners in Inwood, Woodland Heights, Yonkers, and the surrounding areas with the care and attention they deserve. 
When you need property restoration in Riverdale that puts you first, call one of our agents today at 718-285-7309.
Serving the communities of Delafield Estates, Fieldston, Hudson Hill, Inwood, Kings Bridge, Ludlow, Marble Hill, North Riverdale, Riverdale, Spuyten Duyvil, University Heights, Woodland Heights and surrounding area.