Mold Removal in Riverdale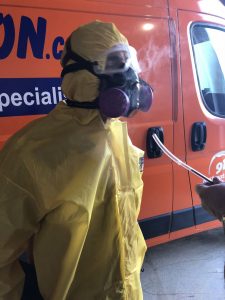 Property owners in Riverdale, Ludlow, and University Heights may discover they have a big problem on their hands if they spot mold growing in their home or business. Mold growth can damage your property and threaten your health, especially if you are dealing with black mold.
You can get immediate help handling a mold infestation by contacting 911 Restoration today. Our skilled mold removal service technicians are available 24/7/365. We can reach properties around University Heights, Riverdale, and Ludlow within 45 minutes of an emergency call.
We understand how upsetting it can be to find mold growing in your home or business. That's why our techs will spring into action right away. Mold removal techs can offer you a free visual mold inspection for property owners only once they reach your home or business.
911 Restoration of Riverdale can send the mold in your property to a 3rd party laboratory for testing. Once the techs know what kind of mold they are dealing with, they can develop a mold remediation plan specifically for your needs.
Depending on your situation, mold cleanup might involve:
Isolating Mold so Spores Cannot Spread

Removing Items Infested with Mold

Cleaning Your Property and Handling Mold Decontamination

Completely Restoring and Renovating Your Home or Business
You can limit the damage done by mold growth by getting professional help today. 911 Restoration of Riverdale can provide you with same-day services. Call us at (718) 285-7309 and please allow us to offer you a free visual inspection.
Get Total Mold Remediation Services in Riverdale
Mold infestations often have serious consequences for property owners. Mold can eat away at your drywall, flooring, and furnishings. Mold often grows where it cannot be seen, allowing the fungus to spread much further than you realize, damaging your property as it grows.
Mold can also impact your health. Individuals who inhale spores of certain types of mold can suffer from respiratory ailments. Some types of mold – like black mold – are even toxic and should not be handled without special safety gear.
911 Restoration of Riverdale is prepared to take on all types of mold damage restoration. We have the equipment and experience to beat back both commercial and residential mold damage restoration in Riverdale, Ludlow, and University Heights.
You can contact us if you need to get information about your situation with a mold inspection. Our IICRC certified techs can also:
Use Professional Techniques to Handle Mold Cleanup

Focus on Total Mold Decontamination

Dry and Dehumidify Your Property so Mold Does Not Return
The techs at 911 Restoration of Riverdale understand that one mold infestation is enough to deal with. Let us check your property for spots of moisture that can allow mold to return. We utilize professional infrared scanners to spot moisture so it can be immediately handled.
Call us at (718) 285-7309 and learn how we can help.
Getting help on your side right away can protect your health and your property. Contact us today so we can focus on returning your home or business to better-than-new condition after a mold infestation.
Let Us Handle Mold Cleanup for You
Commercial and residential property owners in Riverdale, University Heights, and Ludlow can get same day help handling a mold remediation specialist by contacting 911 Restoration of Riverdale. Our techs are licensed, bonded, and insured to handle all aspects of the mold removal process.
You don't have to worry about your health if you contact 911 Restoration of Riverdale for mold remediation services. We can get to work isolating the mold in your property right away, so spores cannot continue to spread through the air.
A mold inspection can help us determine the most effective way to resolve your mold infestation. No job is too big or too small for our experienced technicians. You can rely on us to get mold out of your home or business.
The techs at 911 Restoration of Riverdale are focused on ensuring every part of your property is returned to perfect condition. This means that you can count on us to handle:
Mold Decontamination of All Affected Areas

Odor Removal from Fungal Growth

Renovation Services for Homes and Businesses
You can even call us if you need help handling 911 water restoration. Many times, water damage leads to mold growth. If your mold infestation was caused by a flooded basement, a burst pipe, or a sewage backup cleanup near me, the techs at 911 Restoration of Riverdale can help you.
Put yourself into good hands after a mold infestation by calling 911 Restoration of Riverdale. You can count on us to ensure you get a Fresh Start with a fully restored home or business.
Call us at (718) 285-7309 and learn how we can help.
Serving the communities of Delafield Estates, Fieldston, Hudson Hill, Inwood, Kings Bridge, Ludlow, Marble Hill, North Riverdale, Riverdale, Spuyten Duyvil, University Heights, Woodland Heights and surrounding area.