Sewage Backup
Sewage backup is a home accident we all home to avoid, but like all accidents, they happen. So when they do, you can trust that our sewage backup Riverdale team is here for you to pull you through.
Eli Elfasi, leader of 911 Restoration Riverdale, is here for you 24/7/365 for whenever you experience issues such as raw sewage.
He believes that homeowners should never experience it, so he prides himself on being able to restore your home in order to make it look like the accident never happened.
We bring the fresh start attitude to any job we do. We believe change begets change here, so in order for you to feel the sun on the dark days, we need too radiate it onto you.
Trust that our positive professionalism will be a breath of fresh air, and that everything is going to be better than ever after we arrive.
If you experience sewage backup, and if you need  team that will be out to you within 45-minutes with same day service, then give us a call at 911 Restoration Riverdale.
Sewage Damage Realities
The truth about sewage backup is that it is the most avoidable accident that happens to a homeowner. The reason it is frequent is that homeowners tend to treat their toilet like a trash can.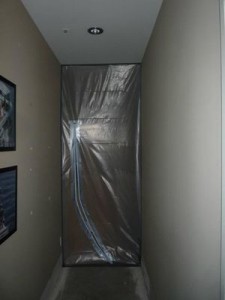 Some important things to remember about sewage backup cleanup restorations:
Things such as paper towels, towelettes, makeup, and other household items commonly found in a bathroom are wantonly flushed down into a sewer pipe where they begin to build up, forming a blockage.
One sign of blockage and potential sewage backup are faucets and toilets that seem to gurgle when used. The reason for the gurgling is that there is an obstruction in the pipe.
Furthermore, toilets that over flow tend to also be indicators of a blockage already in process. When it comes to unblocking toilets, or any waste lines, we recommend not using abrasive chemicals such as dran-o.
The reason being, it will corrode your pipes. It may dissolve the waste, but it will weaken your pipes. What needs to be corrected is the reason the pipes were building up gunk in the first place.
Homeowners can save themselves from backup if they do simple things such as buying a grate to filter out small debris like hair, this will help in the end.
Ultimaetly, preventative maintence is more cost-effective that restoration, so before it is too late, try calling a plumber. They will properly replace any damaged pipes and get them flowing freely.
If you experience sewage backup, then call the sewage backup Riverdale team at 911 Restoration today!
Certified Relief for Sewage Backups
The reason you want us working on your home is that we are IICRC certified. See, sewage damage is more than just vacuuming out dirty water. It is all about deodorization, sanitation, and remediation. It requires the services of an all-in-one team that knows how to take care of you.
When we arrive at your home, we make sure to be wearing the most sophisticated safety equipment, as sewage is category 3-type damage. That is, it is something you do not want to handle yourself due to how dangerous it can be to human health.
Additionally, we start every job with a free visual home inspection. Water is formless and it goes where it can flow, thus, there are parts of your home that you never considered because you may never has seen them.
Our technicians have years of experience in knowing where to look when sewage damage happens. For example, if the area is not properly dried out then the homeowner is at risk for a mold infestation. Which will only add cost and burden to the  homeowners.
We know how to remove all the moisture out from a home, and how to get any signs of damage out, allowing the homeowner confidence to live in their home free from concerns.
If you're in need of restoration services, call the sewage backup Riverdale team today!