Dealing with Roof Leak Damage? Here's What You Should Do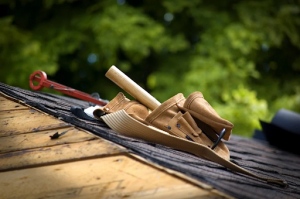 Roof leak damages can spread faster than you think, and they have the potential to become your worst nightmare. Early intervention can save you from costly roof repairs—especially during monsoon season. That's because downpours, hail storms, and snow cause additional trouble for your home. 
They're also the primary reason why the dripping began in the first place. When these incidents happen, you need a three-step action plan to manage the situation. Start with detection, calculate reaction, and then restoration. 
Here's a step-by-step guide you can follow: 
Phase One: Look for Signs of Roof Leak Damage 
Roofs create a barrier between your home and rough environmental conditions. Stormy weather, heavy snowfall, and ice dams are common causes of roof leak damage. Continuous water intrusion can wreak havoc inside your ceilings and walls, often accelerating wear and tear. 
Fortunately, you can minimize potential property loss by investigating the source before the issue becomes . Some leaks are easier to spot than others because of the pool of water collecting beneath it. 
Here are other warning signs to watch out for:
Dripping sounds in the attic/rooms right below the roof 

Visible water stains on ceilings and walls 

A sagging ceiling 

Missing/cracked shingles and flashing 

Musty, moldy odor in the attic 

Discolored/peeling paintwork and wallpaper 

Cracks or bubbles in the ceiling/wall

Soaked furniture and belongings present underneath the leak 
The next step depends on the severity of the situation. We recommend inspecting your rooftop and checking ceilings right after the storm subsides to limit the destruction. Also, call roofing specialists for repairs instead of trying DIY hacks to fix the problem permanently. 
Handy Tip: Take a couple of photos of the roof leak damage for documentation. You can use these photographs to file an insurance claim if required. 
Phase Two: Take Steps to Contain the Roof Leak 
Roof leak damages aren't limited to structural deterioration. The dripping water can ruin your items, electronic appliances, and furniture if they're right below.  In addition, floorboards, carpets, and upholstery can trap moisture when they get soaked. Excessive accumulation can lead to drastic destruction. 
Therefore, you should push your prized possessions out of the way and place water containers beneath the leak. Anything from the garbage can, buckets, to pots and pans can work here. Empty containers to ensure that none of them spill out and ruin the carpeting/floor. 
Also, dry off the water that collects on the floor and drapes to limit intrusion.
Phase Three: Hire a Home Restoration Company in Riverdale 
Dealing with roof leak damages requires professional supervision. That's because you can't hold off the water with containers and temporary repairs. Hiring a licensed home restoration company in Riverdale should be the next step in your mitigation plan. 
Choosing roofing specialists over handypersons proves advantageous here because trained practitioners have more experience. 
Our team consists of certified IICRC-technicians. Not only are they equipped with industry-grade tools, but they're also aware of residential building codes. Their expertise ensures that you receive the best care possible. Home insurance providers are also more likely to approve claims when you team up with legitimate service providers. 
Why Should You Choose Us?
911 Restoration of Riverdale ticks all these boxes and customizes roofing repairs according to your needs and requirements. Our roofing specialists conduct home inspections to spot hidden structural issues and potential risks. After which, they can extend repair and restoration services to tackle messes that go beyond roof leak damages.   
These include mitigation plans for:
Best of all, we operate a 24/7 business to ensure you receive help anytime you want. We can even send our invoice to your insurance provider if roofing repairs are part of your insurance package. 
In short, we are reliable, versatile, and cooperative. These factors make us the best home restoration company in Riverdale.
In a Nutshell 
Dealing with roof leak damage can be a major inconvenience no matter when the problem occurs. Use our three-step strategy to detect and contain the situation before the pros arrive. Start with surveying all possible target sites and ensuring that the leaks don't seep into your floorboards, furnishing, or soak your belongings. 
After this, hire a home restoration company in Riverdale to repair your roof and reverse all types of property damage sustained. Remember that consulting roofing specialists can help you evade underlying risks that you (or an average handyperson) might not detect. Additionally, calling registered service providers works for insurance claims too.
As a result, you manage to protect your property and turn the situation around with minimum casualties. 
Got a roof leak emergency? Get in touch with 911 Restoration of Riverdale to schedule a free home inspection or ask for a free quote.